Jeg fikk en bønn om hjelp fra verdens nydeligste kunde her en stund før jul.
Han heter Swedee og er en herlig buhund som ser det som sin oppgave å være barnevakt for alle små hjemløse og morløse pusekatter som stadig dukker opp i hjemmet hans fordi hans matmor er  fosterhjem for dyrebeskyttelsen.
Swedee har en gakk-gakk,som han er veldig glad i, men nå hadde han vært så glad i den at gakk-gakk var  blitt veldig syk og trengte «operasjon».
Hvem kan vel si nei til bedende hundeøyne, så jeg sa jeg skulle prøve, og gakk-gakk ankom i posten.
————————
A Norwegian Buhund named Swedee asked for help. He has a «Birdie» that he loves to play with, but no the play had been a little too hard, so the Birdie was very sick and needed an «operation». Could I help?
Lovely Swedee who is very good at looking after little homeless and motherless kittens while they stay at his home   growing big and strong enough  to move to new homes.
I could not say no,  so the Birdie came by post.
—————-
Og den var virkelig syk.
————–
It was indeed very sick: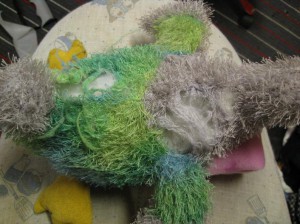 Først fjernet jeg alle rester etter tidligere behandlinger,og så tråklet jeg den sammen slik jeg mener den må ha vært da den var ny.
—————————————————
First I removed all sewing from earlier treatments, and then I tacked it together the way I think it must have been when it was new.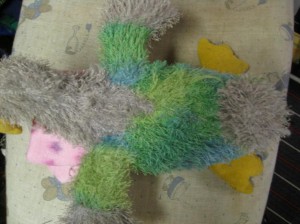 Men dette ville jo ikke holde, her måtte det kraftigere saker til . Så jeg  fant noe bevernylon i er gråfarge og sydde det på med tette sting og sterk tråd.
—————————-
This was not strong enough, so i took a bit of  Beaver Nylon and sewed it on the back of the Birdie with a strong tread and many stitches.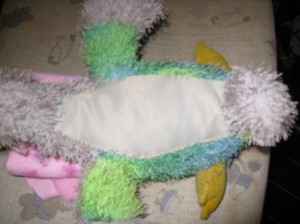 Men dette var ikke noe pent, syntes jeg. Ikke hadde jeg noe garn i «riktige» farger heller, men jeg la sammen to grønnfarger og strikket en bit som jeg
sydde på for å skjule bevernylon-lappen.
——————
This was not very pretty, I thought. I found  thin yarn in two green colours and knitted a bit to hide the Beaver nylon patch.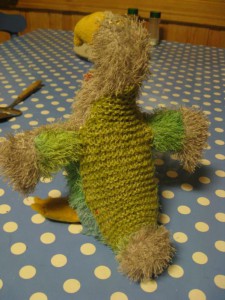 Jeg burde ha gitt meg  der, men syntes fremdeles ikke den var blitt helt bra,  så jeg sydde løkker av sytråd rundt en tykk strikke pinne og fast i strikkelappen i rader oppover, som jeg festet med maskinsømmer og etterpå klipte opp i løkkene.
—————-
I should have stopped now, but since Istill was not satisfied with the result, I found sewing tread in the «right» colour of green and made rows of sewing thread in the knitted patch and around a very thick knitting needle. Each row got 2 machine stitches to fasten them, before i cut up the thread loops to make it more like» feathers»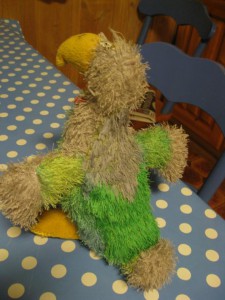 Mye bedre, men huffa for en pirkejobb,  jeg tror ikke jeg gjør det igjen.
——————————————
Much better, but  what a puzzle. I don´t think i will do it again

Continue reading Swedees Gakk-gakk i nød ( Swedees «sick» Birdie)