Jeg er litt i gang igjen med disse kattegryteklutene.
Foreløpig er to par ferdige.
I am doing Cat kettle holders again.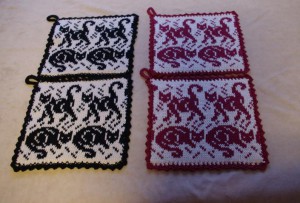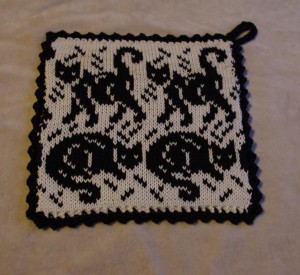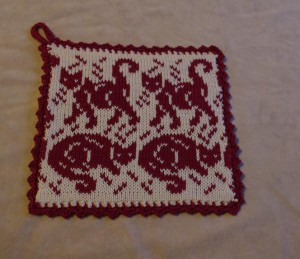 Dette er solide saker. De er maskinstrikket i bommullsgarn 12/6 og doble, noe som gjør dem både tette og tykke, så her skal det noe til å brenne seg på fingrene. De tåler også en god 60 graders vask. Det eneste som kan skje med noen av fargene, er at det blir et pastellskjær på den hvite bunnfargen av mønsterfargen.
They ar machin knitted with cotton yarn 12/6, and they have two sides. This makes them thick and you will not burn fingers using them.They can be wasked on 60 degrees celcius.
Jeg vil å noen få for salg etter hvert, så langt restegarnlageret rekker. De koster 170 kr pr. par pluss porto, og 20 kr pr par går til hjemløse katter.