Forklær kan syes på mange måter,og jeg har min måte å gjøre det på. Siden jeg selv er nærmest allergisk mot å ha et bånd over nakken lager jeg et som ikke har det.
Det har lange bånd som går fra brystsmekken, i kryss over ryggen og inn i hemper på hver side av linningen og knyttes så bak. Dette gir også en fleksibel størrelse.
Først et med litt juleaktige hjerter, men ikke mer enn at det går fint til helårsbruk: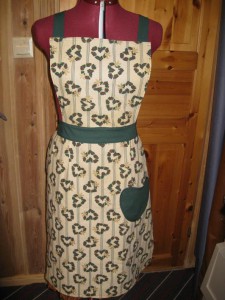 Også et «crazycatlady» forkle. Dette julestofffet med glade katter liker jeg veldig godt, og jeg har både julegardiner, pyntehåndkle og hette til kenwooden av det.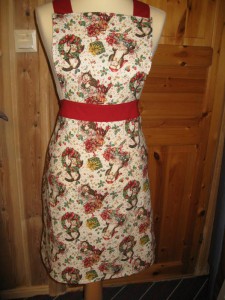 Aprons can be made in many different ways. I can not stand having a neckband on anything, so i make it this way with long bands from the chestpart, crossing back and into loops in each end of the waistband, then tied together back. This  also gives more flexibility in the size.
One in fabric with green harts, and one christmas «crazycatlady» apron.  I also have kitchen curtains, and a hoodie to my kenwood in the christmas kitty fabric.