Som en liten oppmuntring/trøst til noen som nettopp har misten sin firbente venn har jeg laget et putetrekk.
Forsiden er et brodert Boston Terrier hode med stoffer medpotemønster rundt.
As a little comfort to a lady who has just lost her beloved dog I made a pillow case
The front side is a machin embroidered Boston Terrier head with paw print fabrics around it.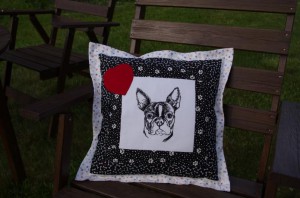 Baksiden fikk et stoff med diverse hunder/The back side is a print with various dogs.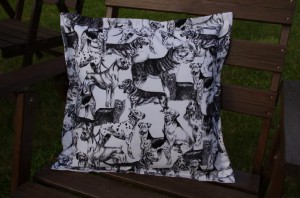 Jeg var litt redd for at hun kunne bli enda mer lei seg ved å få en pute så lik den hunden hun hadde mistet, men heldigvis ble hun veldig glad for gaven.
I was a little afraid that she might feel even more sad receiving a present  with a decoration so like the dog sha had lost, but she appreciiated the gift very much, she said.