Etter mye om og men, mye kladding på rutepapir som endte opp med en genser i et «gammelt» mønster jeg har brukt før og med motiver sydd med maskesting etterpå
ble denne genseren til. Det er en sesialbestilling og vil ikke bli laget igjen.
After a lot of thinking, drawing and trying i finally ended up with this sweater. It is a spesial order and will not be made again.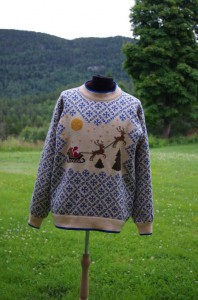 Genseren er sendt til England hvor den,så vidt jeg vet, nå er gitt bort i gave.
The sweater is sendt to England, where it, as far as Iknow, ig given  as a present.